Ordering and paying from abroad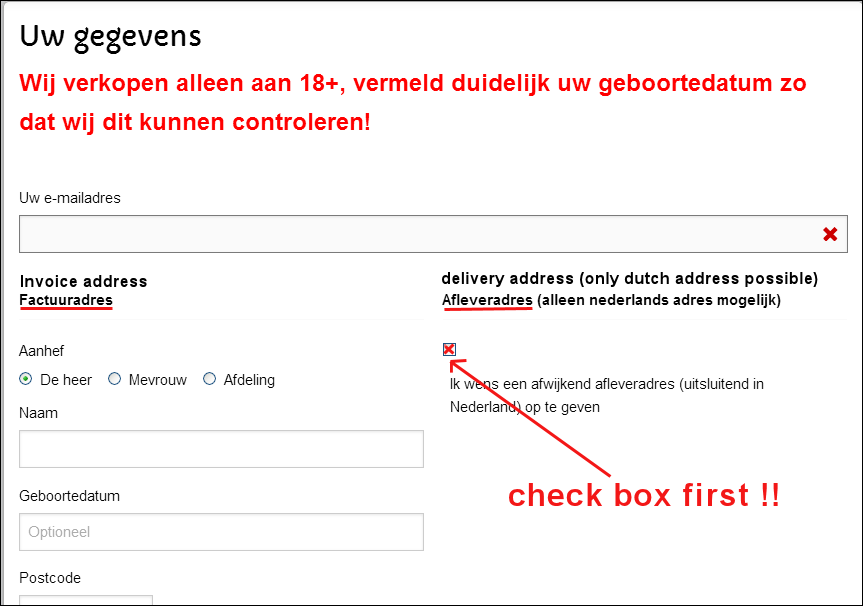 When you are not living in the Netherlands it is still possible to order our products. Below we will explain which are the two possibilities.
Note: In order to be able to fill in a billing address abroad, you first have to tick that you want to specify a different delivery way (see picture at the top of the page). Otherwise, the software automatically blocks a foreign address via zipcode-control and there is no possibility to enter your country in the country selection checklist.
You can also send your order via email to us and include the foreign billing address with your name, email address and telephone number. Next you will receive a confirmation email from us with the correct amount.
Because we do not deliver abroad, you must indicate whether you want to pick up the products at our collection service center in Roermond or to which delivery address in the Netherlands we may send the ordered products.
When picking up at our collection service center in Roermond you can pay on pick-up (pin& cash).
Before we send products you must transfer the amount, which is in the confirmation email, to our account number. The products will be sent as soon as the amount has been credited to our account. When you pay from abroad you need the following 2 codes:
Bic: SNSB NL2A
IBAN: NL16 SNSB 0873 2944 59 in the name of Riccardo Benelux Handelsonderneming
We look forward to receiving your order.